The Gesneriad Society Shop
Regular price
Sale price
$14.95 USD
Unit price
per
Sale
Sold out
Andrea Worrell, an award-winning grower of miniature and semi-miniature African violets, has created a presentation with colorful photos as a guide to help you grow the small ones.  Learn about pot sizes, soil, watering, and fertilizer. Andrea also discusses temperature, lights, and disbudding, and she demonstrates how to repot plants and deal with plants with long "necks". She also guides the viewer on what judges look for when judging at shows.
You will see photos of miniature and semi-miniature African violets and a short video while you hear Andrea give instructions and guidance. This program is 30 minutes with over 60 photos, perfect for showing as a program for your local group.  It is also a fantastic reference for you to have in your computer and refer to it over and over again.  You'll be inspired to grow the small ones whether for your own pleasure or for shows.
You will receive your download link within 48 hours of placing your order. You can watch the session at your convenience once you have downloaded the MP4 file. Please note that while you can have as many people as you want in the room listening, you cannot share your link with others. The unique login link will only admit one computer.
The Gesneriad Society is not responsible for the inability of a downloaded file to run on individual computers. It is the responsibility of the purchaser to resolve such issues. Downloads are not eligible for refunds; however, credits will be extended.
Share
View full details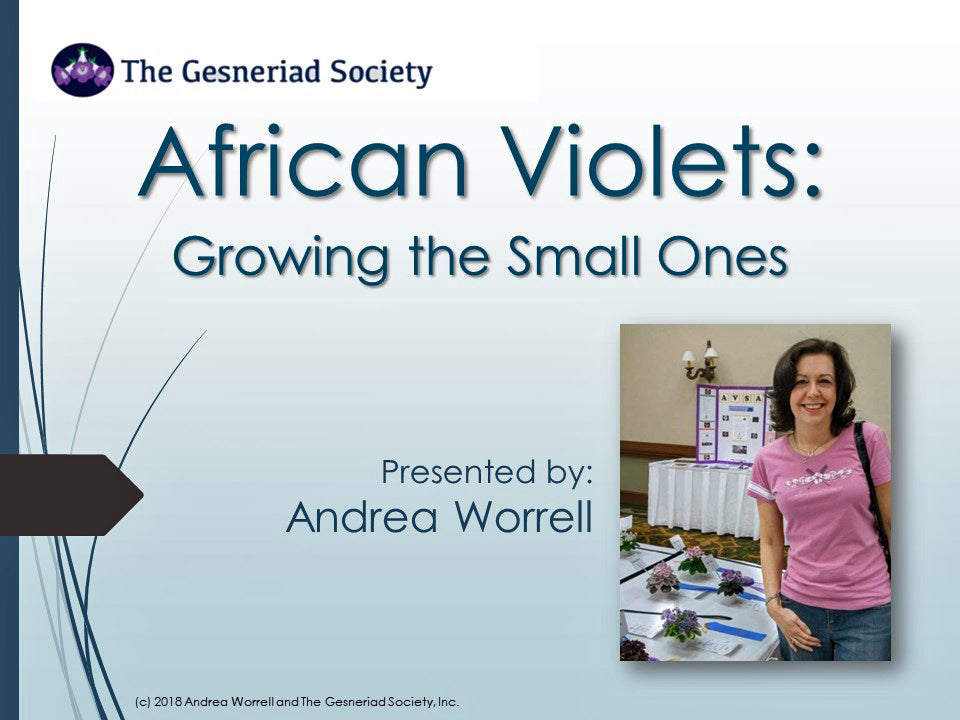 Subscribe to Gleanings - the free e-zine!