The Gesneriad Society Shop
Regular price
Sale price
$14.95 USD
Unit price
per
Sale
Sold out
Once upon a time, notes Michael Riley, all plants were born outside. Yet most folks who grow African violets and other gesneriads grow them indoors. But not everyone; a few intrepid souls have ventured into the wilds of their backyards or onto their roofs to experiment expanding their growing area with the help of Mother Nature. The four speakers featured in this Gesneriad Society webinar will share their adventures in various aspects of outdoor growing.
This 60-minute armchair journey begins with Michael Riley standing in snow on the roof of his New York City building and ends with Mary Schaeffer explaining how she takes advantage of all-day direct sun and complete shade to grow certain gesneriads in her Delaware garden. Paul Susi shares his experiences growing outside in pots in his suburban Long Island backyard, and Alcie Maxwell in Louisiana discusses growing gesneriads as originally intended, right in the ground in his garden 
Please join us for this very enjoyable and informative hour. After seeing this session, you will be inspired to give a few of your own gesneriads an outside vacation this summer.
Note: There are about 15 minutes of Q&A at the end of the presentation. For chapters wishing to show this over two sessions, it will be easy to break it up.

You will receive your download link within 48 hours of placing your order. You can watch the session at your convenience. Please note that while you can have as many people as you want in the room listening, you cannot share your link with others. The unique login link will only admit one computer.
The Gesneriad Society is not responsible for the inability of a downloaded file to run on individual computers. It is the responsibility of the purchaser to resolve such issues. Downloads are not eligible for refunds; however, credits will be extended.
Share
View full details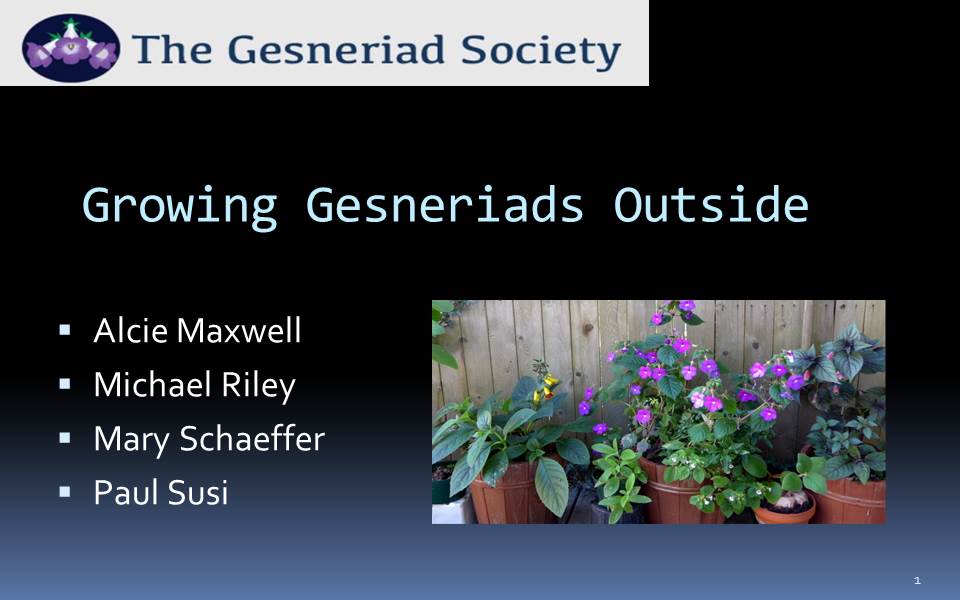 Subscribe to Gleanings - the free e-zine!