The Gesneriad Society Shop
Regular price
Sale price
$14.95 USD
Unit price
per
Sale
Sold out
Have you ever wondered how some growers have success with those fabulous rare gesneriads? They must know something you don't know. Now, you can get into the mind of one of The Gesneriad Society's best growers, Bill Price, and find out just exactly how he manages to overcome many of the challenges these rare gesneriads present. Bill shows us how he grows over 30 different rare gesneriads, explains how he grows them and then answers a few questions on his growing processes. Bill begins the talk with an analysis of what he does with a new plant that he's never seen or grown before. He explains how he figures out whether it belongs in strong light or in a more protected environment. This is one session you won't want to miss. Here's a comment from a satisfied viewer: "Bill's advice is invaluable, and the webinar is really great!" 
Note: There is a short break in the middle of Bill's talk for those clubs who wish to show this in two parts. Each part is roughly 30 minutes.
Orders will be fulfilled within 48 hours. The download file is yours to keep and can be viewed anytime. Please note that while you can have as many people as you want in the room listening, you cannot share your link with others. The unique login link will only admit one computer. 
The Gesneriad Society is not responsible for the inability of a downloaded file to run on individual computers. It is the responsibility of the purchaser to resolve such issues. Downloads are not eligible for refunds; however, credits will be extended.
Share
View full details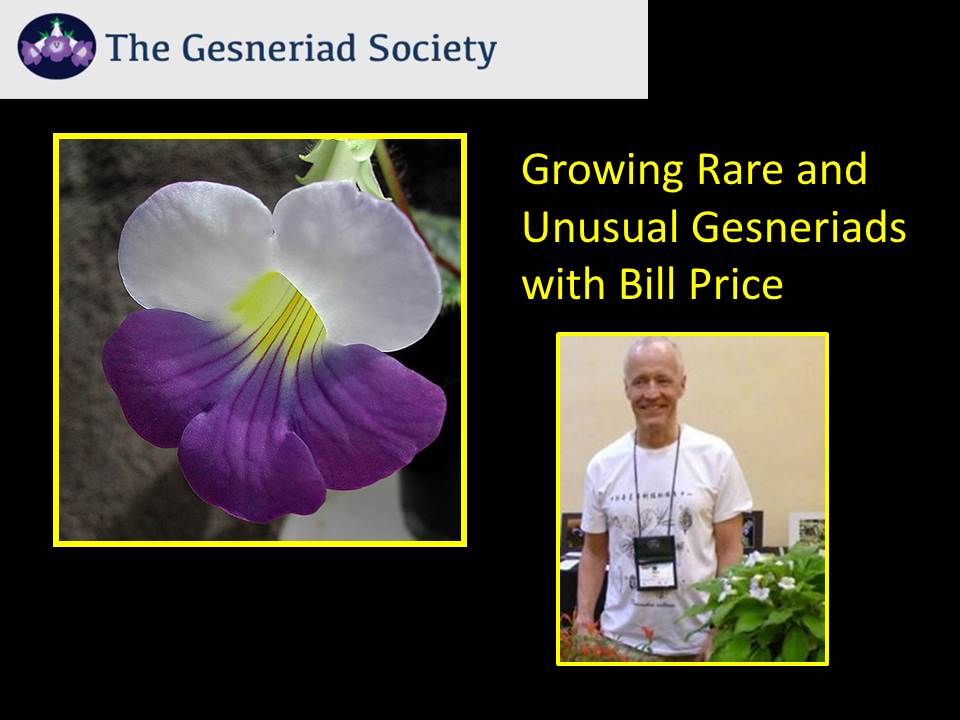 Subscribe to Gleanings - the free e-zine!